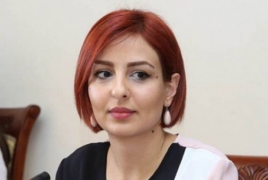 July 2, 2021 - 16:52 AMT
PanARMENIAN.Net - Member of the Armenian delegation to the OSCE Parliamentary Assembly, lawmaker Ani Samsonyan has told an OSCE PA committee meeting that Azerbaijan still fails to return Armenian prisoners of war and is using them for political purposes.
"These days, trials have begun in Azerbaijan against Armenian captives, which completely violates the principles of international law, the rights of captives and their families," Samsonyan told the Committee on Democracy, Human Rights and Humanitarian Affairs.
"Issues of humanitarian law are politicized by Azerbaijan. I will post a link in the conversation chat and show a video where the presidents of Azerbaijan and Turkey were talking about Armenian prisoners of war as a subject of trade, planning to return them in exchange for maps of the mined areas in Nagorno Karabakh.
"This is an undeniable evidence that Azerbaijan is engaged in human trafficking, and the Armenian prisoners of war are the subject of political bargaining for Azerbaijan."
Samsonyan maintained that all the trials against the Armenian PoWs are fake processes, aiming to "throw dust in your eyes." Since May 12, she added, the Azerbaijani troops have violated the territorial integrity of Armenia and are refuding to leave the sovereign territory of Armenia.
"We call on our European partners to impose sanctions on Azerbaijan for violating Article 2 of the UN Charter," the lawmaker said.
Azerbaijani forces violated Armenia's border in several sections in the provinces of Syunik and Gegharkunik on May 12 and 13 and are still refusing to withdraw their troops from the area. One Armenian serviceman was killed in Azerbaijan's shooting on May 25, six troops were captured on May 27, although four of them have already returned home.