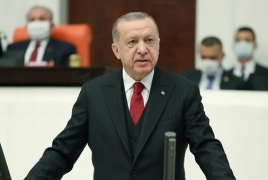 July 13, 2021 - 14:39 AMT
PanARMENIAN.Net - Turkish President Recep Tayyip Erdogan has described the incident with Turks dancing atop the entrance gate of an Armenian church in Istanbul as a "provocation", Bianet reports.
According to a video posted by HDP member Murad Mıhçı on Twitter, two men are seen dancing atop the building, while a group of others are dancing to loud music and drinking nearby.
Erdoğan criticized the incident which happened at the Surp Takavor Armenian Church in İstanbul's Kadıköy July 11.
"I see it as a provocation targeting our unity and solidarity that [a group of people] showed disrespect by climbing over a church wall in İstanbul Kadıköy," Erdoğan stated.
In the past, however, Erdoğan's has made public use of the insult "the leftovers of the sword" in referring to survivors of the Genocide and massacres of Christians, which mainly targeted Armenians, Greeks and Assyrians in the Ottoman Empire and its successor, Turkey.
Earlier in the year, a man in Turkey organized a barbeque party in the historic Armenian Sourp Asdvadzadzin Church (19th century) in the village of Germuş, 10km northeast of the city of Urfa. According to local media reports, the kebab seller cooked the local liver kebab for a while and served it to people attending the "event". The barbecue party, held in the church and shared on social media, created a wave of reaction among users.
Many Armenian churches and historic heritage sites in Turkey have been neglected or destroyed over the decades. Others have been converted into mosques, cattle sheds and warehouses.