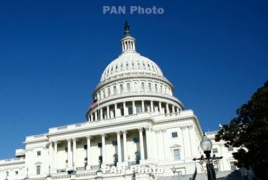 July 21, 2021 - 10:28 AMT
PanARMENIAN.Net - Chairman of the Senate Foreign Relations Committee Bob Menendez has demanded answers on America's waiver of Sec. 907 restrictions on U.S. aid to Azerbaijan at a confirmation hearing for Assistant Secretary of State nominee Dr. Kate Donfried.
"The Azerbaijanis are now interfering on the physical territory of Armenia in a border issue and it just seems to me that they will continue to be aggressive unless they have a clear message that it's not acceptable," Menendez said.
Dr. Donfried responded: "It is critical to make sure that any support we are giving to Azerbaijan is not in any way affecting the balance of power and that we are committed to the resolution of Nagorno-Karabakh."
The United States Secretary of State Antony J. Blinken approved a waiver extension for Section 907 to authorize direct U.S. aid to the Azerbaijani government, a State Department Spokesperson confirmed to PanARMENIAN.Net in late April.
Section 907 of the United States Freedom Support Act was adopted in 1992 to ban direct U.S. aid to Azerbaijan unless the latter takes "demonstrable steps to cease all blockades and other offensive uses of force against Armenia and Nagorno-Karabakh." But the Congress amended Section 907 in 2002 to allow the president to waive the provision and authorize military aid to Azerbaijan, which is what every U.S. president has done since every year.