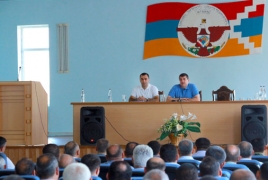 August 4, 2021 - 15:33 AMT
PanARMENIAN.Net - Artsakh (Nagorno-Karabakh) President Arayik Harutyunyan believes that Artsakh alone won't be able to ensure its security, so there is a need for the permanent presence of Russian troops in Karabakh.
Harutyunyan made the remarks at a meeting with the residents of Martakert on Wednesday, August 4.
"Victory is not final, defeat is not fatal. You have to have the courage to continue. For 30 years we had victory, which I would describe as temporary success, because if victory is not final, then it cannot be a victory. We have failed, but this is not a defeat, and we must continue our struggle. Our work determines not only our daily life and activity, but also the fate of our children and our generations," said Harutyunyan.
According to him, the presence of Russian peacekeepers in Artsakh should not be temporary, but permanent.
"If it were not for the arrival of the Russian troops in the region, we would have had a completely different fate," Harutyunyan added.
Armenian Prime Minister Nikol Pashinyan, Russian and Azerbaijani Presidents Vladimir Putin and Ilham Aliyev on November 9 signed a statement to end the war in Karabakh after almost 45 days. Under the deal, the Armenian side has returned all the seven regions surrounding Nagorno-Karabakh, having lost a part of Karabakh itself in hostilities.