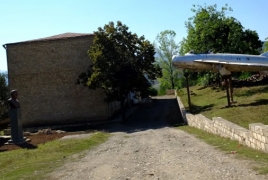 August 21, 2021 - 13:08 AMT
PanARMENIAN.Net - Azerbaijan continues the policy of cultural genocide in the occupied territories of Artsakh (Nagorno-Karabakh), destroying not only churches, khachkars, monuments dedicated to the First Karabakh War and Armenian cemeteries, but also Soviet monuments commemorating the Great Patriotic War.
Recent satellite imagery obtained by Karabakh Records shows that the Azerbaijanis have destroyed the bust of the great Soviet hero of the Second World War, Armenian Marshal of Soviet Aviation Sergei Khudyakov (Armenak Khanperiants).
Photos taken in July 2021 reveal that the Azerbaijanis have also partially destroyed and relocated his MiG-17 fighter jet, which was placed in front of his house-museum in his home town of Mets-Tagher in hadrut, Artsakh.

A comparison of images taken before and after the 44-day war of 2020 shows that the Marshal's bust and his MiG-17 were vandalized during the occupation of the village by the Azerbaijani side.
The village, by the way, was occupied in violation of a trilateral statement singed by Armenia, Azerbaijan and Russia on November 9, 2020, according to which the sides were supposed to remain at positions they held while the document was being signed.
Artsakh Foreign Minister David Babayan earlier confirmed that besides the statue of Khudyakov, those of other military leaders of the Great Patriotic War, such as Admiral I. Isakov and Colonel General Sergei Sardarov (considered one of the founders of the Soviet air defense system) have been vandalized too.