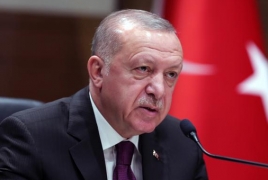 August 30, 2021 - 12:21 AMT
PanARMENIAN.Net - Turkish President Recep Tayyip Erdogan has declared that Ankara is ready to gradually normalize relations with Yerevan, Hurriyet reports.
Erdogan's comments came after Armenian Prime Minister Nikol Pashinyan weighed in on regional peace earlier, maintaining that "public positive signals" are coming from Turkey. Pashinyan said the Armenian side will assess those signals and respond in kind.
"There is a need for new and constructive approaches in our region. Although there are differences of opinion and expectation, it will be a responsible course of action to make a sincere effort to develop good neighborly relations on the basis of trust, including respect for each other's territorial integrity and sovereignty," Erdogan said.
According to him, the parties should avoid "unilateral accusations and using history as a source of enmity".
"We can work to gradually normalize our relations with an Armenian government that has declared its readiness to move in this direction," he added.
In the 44-day war against Artsakh (Nagorno-Karabakh) in late 2020, Turkey supported Azerbaijan militarily, also by transferring terrorist mercenaries from the Middle East to fight against Karabakh. Armenia was the first to report on Turkey's deployment of thousands of Syrian fighters to Azerbaijan. International media publications followed suit, as did reactions from France, Russia, Iran and Syria. The Nagorno-Karabakh Defense Army has already unveiled footage from the interrogation of two such terrorists captured on the front.