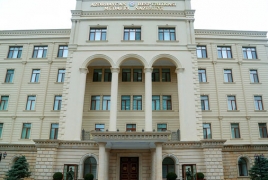 September 13, 2021 - 11:35 AMT
PanARMENIAN.Net - The Azerbaijani Defense Ministry has complained to Russia over the "entry of foreign vehicles" into Nagorno-Karabakh.
The Russian peacekeeping contingent was deployed in Nagorno-Karabakh on November 10, immediately after Armenian Prime Minister Nikol Pashinyan, Russian and Azerbaijani Presidents Vladimir Putin and Ilham Aliyev signed a statement to end the war in Karabakh after almost 45 days. Under the deal, the Armenian side returned all the seven regions surrounding Nagorno-Karabakh, having lost a part of Karabakh itself in hostilities.
In a letter sent to the Russian Defense Ministry and the peacekeeping contingent in Artsakh (Karabakh), the Azerbaijani side maintained on Sunday, September 12 that such cases allegedly contradict the joint statement signed by the leaders of Armenia, Russia and Azerbaijan, and "asked to prevent them."
Azerbaijan claims individual or legal entities from foreign countries and their vehicles can's enter Karabakh without Baku's consent, describing such cases as "violation of the law of the Republic of Azerbaijan."