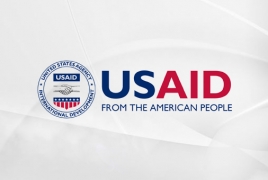 September 15, 2021 - 18:41 AMT
PanARMENIAN.Net - The U.S. government through the United States Agency for International Development will provide $9.5 million to combat corruption in Armenia, the USAID said in a statement on Wednesday, September 15.
During the "Armenia's Anti-Corruption Policy Priorities" forum, organized on the International Day of Democracy, USAID/Armenia officially launched its new Armenia Integrity Project (AIP) aimed at supporting the country's efforts in mitigating corruption risks and enhancing current mechanisms to prevent it in the government.
Over the next five years, AIP will focus on three key objectives: strengthening corruption prevention institutions and integrity systems; supporting the implementation of specific legal-regulatory measures for corruption prevention; and facilitation of the collective citizen action approach to hold national and local level government entities engaged in corruption prevention mutually accountable.
Ambassador Tracy, Deputy Minister of Justice Suren Grigoryan, Chairperson of the Corruption Prevention Commission Haykuhi Harutyunyan, and other participants discussed the successes that Armenia has achieved so far in combating corruption and the remaining challenges to set up an effective anti-corruption system in the country.
"We are encouraged by the government's efforts to root out corruption using what is commonly referred to as "the three Ps of anti-corruption"— Prevention, Promotion, and Prosecution. The Armenia Integrity Project, USAID's signature anti-corruption initiative, will support the Corruption Prevention Commission and the Ministry of Justice, among other stakeholders, in implementing measures to strengthen integrity in the public sector," Ambassador Tracy said.