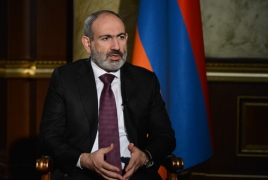 September 25, 2021 - 13:01 AMT
PanARMENIAN.Net - Armenian Prime Minister Nikol Pashinyan has used the UN stage to raise numerous gross violations of international law by the Azerbaijani armed forces during the recent war in Nagorno-Karabakh. In a pre-recorded video for the 76th session of the UN General Assembly on Friday, September 25, Pashinyan spoke about Azerbaijan's deliberate targeting of civilians and vital infrastructure, extrajudicial killings of prisoners of war and civilian hostages, torture and many other documented crimes.
Pashinyan said the Armenian people were subjected to complete ethnic cleansing in the parts of Nagorno-Karabakh, which came under the control of Azerbaijan. Unfortunately, he added, the international community was again unable to prevent the mass atrocities: "Today, no Armenian lives or practically could live in the territories under the control of Azerbaijan."
"Azerbaijan not only still holds several dozen citizens of the Republic of Armenia in captivity, but also has sentenced many of them to 6 to 20 years imprisonment on trumped-up charges. In addition, there are persons whose captivity has not yet been confirmed by Azerbaijan, although there is clear evidence that they were captured. This becomes even more unacceptable against the background that in the fall of 2020, Azerbaijani users posted videos of the capture of specific Armenian soldiers, and later the decapitated or shot bodies of those soldiers were discovered. We have irrefutable evidence about the torture of our captives," Pashinyan said.
"An outrageous example of the deepening of the atmosphere of hostility is the opening of the so-called trophy park in Baku, where Azerbaijani schoolchildren are taken on excursions to watch the mannequins of captured, killed or bleeding Armenian soldiers.
"These and other steps are taken to demonstrate the impossibility of peace in our region, but we will consistently advance that agenda by using every opportunity and by creating new opportunities to open an era of peace for our region."
Pashinyan also weighed in on the unblocking of transport communications in the region, stressing the importance of a possible rail route from Turkey to Armenia.