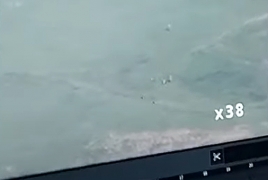 December 3, 2021 - 18:48 AMT
PanARMENIAN.Net - Azerbaijani troops on Friday, December 3 broke into the neutral zone near the town of Chartar, Nagorno-Karabakh, "used violence" against an Armenian civilian and murdered him after dragging him to their positions. The civilian was identified by the National Security of Artsakh (Karabakh) as Seyran Sargsyan (b. 1956) who used to be engaged in cattle breeding
Cameras installed on the Armenian side have recorded the the incident and the criminal actions of the Azerbaijanis, the NSS added.
The NSS earlier reported the 65-year-old's disappearance and said the authorities are taking measures to return the civilian home.
The Russian peacekeeping contingent deployed in the region since the end of hostilities in fall 2020 had been notified about the incident too.
The Azerbaijani military regularly violates the Russia-brokered ceasefire achieved on November 9, 2020. On November 8, a group of four workers from Nagorno-Karabakh were target by the Azerbaijani side, as a result of which three people were injured and one was killed. On October 9, another civilian from Karabakh was killed by an Azerbaijani sniper while working in his orchard near the town of Martakert.