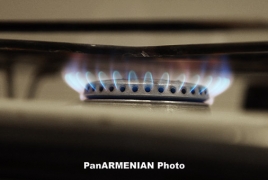 March 28, 2022 - 10:57 AMT
PanARMENIAN.Net - ArtsakhGaz, the main distributor of natural gas in Nagorno-Karabakh, has issued a statement to remind that the country is receiving its gas supplies from Armenia, accusing Azerbaijan of spreading "false and provocative disinformation" about the matter.
The statement came after Azerigaz declared that the "malfunction" causing disruptions in gas supply in Karabakh has been "eliminated", adding that the supply of natural gas will resume on March 28.
Beginning from March 8, over 100,000 residents in Karabakh were deprived of gas for over 10 days, and because the pipeline was damaged in territories currently under Baku's control, the Azerbaijani military would not allow the Armenian side to eliminate the problem. Gas supply resumed on March 19, only to be interrupted again on March 22.
According to Artsakhgaz, the statement from Azerigas pursues the "insidious goal" of taking advantage of the difficult situation and misleading the Artsakh Armenians and the international community on the matter.
"We would like to inform you that natural gas enters the territory of the Artsakh Republic only through one gas pipeline from the territory of the Republic of Armenia, and the gas supply company is Gazprom Armenia CJSC (a wholly owned subsidiary of Gazprom OJSC)," ArtsakhGaz said in a statement of its own.
"Artsakhgaz CJSC carried out the distribution of natural gas from said gas pipeline to its customers. Therefore, the Azerbaijani state oil company SOCAR mentioned in the message or its subsidiary Azerigaz cannot have anything to do with the gas supply process of the Artsakh Republic. It is simply technically and geographically impossible.
"The statement once again proves that days after blowing up the pipeline on March 8 and obstructing its repair for days, the Azerbaijani side has deliberately installed a valve on the pipeline, relying on unfavorable weather conditions to create additional humanitarian problems for the people of Artsakh."