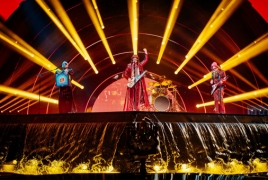 May 16, 2022 - 11:19 AMT
PanARMENIAN.Net - Romania, Georgia and Azerbaijan are seeking clarifications regarding a decision by the organizers of the Eurovision Song Contest to scrap jury votes from those three countries.
The EBU said "certain irregular voting patterns" in the results of six countries were identified in the analysis if the jury voting in the Second Semi-Final of the contest. These were then replaced by an aggregated result based on countries with similar voting patterns in both the second semi-final and the grand final.
Broadcaster TVR from Romania has since described the EBU's decision "an unpleasant surprise", ESCXTRA reports.
In their statement, the Romanian broadcaster states that they had not received any information about the exclusion of their jury scores. They specifically state that their jury had awarded twelve points to Moldova. However, in the accumulated jury score that was created by the EBU upon excluding Romania's jury, Moldova didn't receive a single point. Instead, their twelve points now went to eventual winners Kalush Orchestra from Ukraine.
"In this extraordinary situation, which surprised us unpleasantly, TVR asked the ESC organisers to provide us, officially, the clear reasons why they replaced the jury score in Romania with a "substitute" calculated in a non-transparent way. Depending on the answer that will be sent to us, TVR reserves the right to take measures to correct the situation created." TVR said.
The Georgian public broadcaster GPB announced that in its jury awarded 12 points to Ukraine. However, Georgia's 12 points went to the United Kingdom, Eurovoix said.
The Public Broadcaster is clarifying the details with the organizers of the Eurovision Song Contest.
Azerbaijan is facing similar problems. TV presenter Narmin Salmanova maintained that her country too awarded the maximum score to Ukraine, and not to Great Britain, According to Salmanova, the Azerbaijani has broadcaster initiated proceedings on this matter, Vedomosti reports.