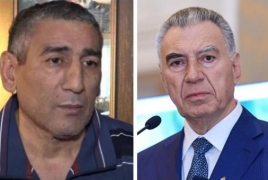 May 20, 2022 - 13:56 AMT
PanARMENIAN.Net - Azerbaijani saboteur Shahbaz Guliyev has admitted that back in 2014 he was sent to Nagorno-Karabakh by the Azerbaijani authorities on a special assignment.
Guliyev, Dilgam Asgarov and Hasan Hasanov illegally infiltrated into Kalbajar district of Karabakh and murdered 17-year-old local resident Smbat Tsakanyan and Major Sargis Abrahamyan, injuring the latter's companion Karine Davtyan on the road from Vardenis to Kalbajar.
Hasanov was killed in firefight with Artsakh Defence Army servicemen, while the other two were detained. The Stepanakert Residence of the General Jurisdiction Court of First Instance of Nagorno Karabakh Republic sentenced Asgarov to life in prison and Guliyev to 22 years in prison (only Asgarov was convicted of Tsakanyan's murder. The two, however, were released when Armenia and Azerbaijan agreed to exchange prisoners and hostages after the Second Karabakh war in fall 2020.
Speaking in a fresh interview with Xural TV, Guliyev expressed frustration with the state's inattention after returning to Azerbaijan․ Complaining about poor social conditions, he said that he would speak even "at the cost of his life", Regionmonitor reports.
The Azerbaijani saboteur noted that they infiltrated into Kalbajar on many occasions with the knowledge of Deputy Prime Minister Ali Shamil oglu Hasanov․ According to him, they were given firearms and grenades right in Hasanov's office in 2014 and sent to gather intelligence.
Guliyev said the group provided 10 videos from their former incursion into the territory of Nagorno-Karabakh to the Azerbaijani army.