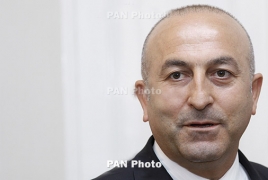 May 20, 2022 - 15:02 AMT
PanARMENIAN.Net - Turkish Foreign Minister Mevlut Cavusoglu said on Thursday, May 19 that Armenia "must respond to well-intentioned approaches" from Azerbaijan, Daily Sabah reports.
Çavuşoğlu maintained that Azerbaijan has "displayed a will for peace and stability" in the region and proposed to Armenia "a comprehensive peace agreement".
"We always state that Armenia now must respond to these well-intentioned approaches and we do encourage these. We see that the Armenian administration is under pressure by radicals within the country as well as the diaspora outside."
Armenia's Ambassador at-large Edmon Marukyan earlier published Yerevan's response to Azerbaijan's five-point proposal on normalization of relations between the two countries. Marukyan also revealed that at an April 6 meeting with President of the European Council Charles Michel in Brussels, Armenian Prime Minister Nikol Pashinyan and Azerbaijani President Ilham Aliyev reached an agreement can start negotiations on a peace agreement, based on Baku's five and Yerevan's six points.