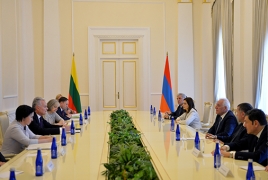 May 20, 2022 - 18:58 AMT
PanARMENIAN.Net - Lithuanian President Gitanas Nausėda has promised to support the preservation of the Nagorno-Karabakh (Artsakh) cultural heritage that remained in territories controlled by Azerbaijan, Armenian President Vahagn Khachaturyan told reporters after the two held a meeting in Yerevan on Friday, May 20.
Khachaturyan noted that the efforts of Armenia aimed at establishing lasting peace in the region were discussed during the meeting. According to him, the views of Lithuania and Armenia on the matter are identical.
"The need to preserve Armenian cultural monuments in Artsakh and under the control of Azerbaijan was especially emphasized. President Gitanas Nausėda promised to support the preservation of the Armenian Christian cultural heritage in every possible way," Khachaturyan said.
"In that context, the visit of a UNESCO expert mission to territories under the control of Artsakh, Azerbaijan, was stressed."
Concerns about the preservation of cultural sites in Nagorno-Karabakh are made all the more urgent by the Azerbaijani government's history of systemically destroying indigenous Armenian heritage—acts of both warfare and historical revisionism. The Azerbaijani government has secretly destroyed a striking number of cultural and religious artifacts in the late 20th century. Within Nakhichevan alone, a historically Armenian enclave in Azerbaijan, Azerbaijani forces destroyed at least 89 medieval churches, 5,840 khachkars (Armenian cross stones) and 22,000 historical tombstones between 1997 and 2006.