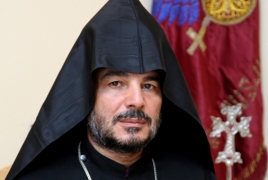 May 27, 2022 - 18:38 AMT
PanARMENIAN.Net - Primate of the Artsakh Diocese of the Armenian Apostolic Church Bishop Vrtanes Abrahamyan has said that he is disappointed with the reaction of the international community to the war unleashed by Azerbaijan against Nagorno-Karabakh (Artsakh) in the fall of 2020.
Bishop Vrtanes compared the situation in Karabakh to the crisis in Ukraine, which he said is getting extensive media coverage and attention.
Speaking with the WCC Armenia Round Table Foundation, the Primate said the Church is actively work with children, young people and women who have lost relatives, to help them overcome the consequences of the war. A special rehabilitation program has been created for women who have lost relatives, he added.
The Primate also revealed that the Russian peacekeeping troops are carrying out their mission "with dignity".
Russian peacekeepers were deployed in Karabakh immediately after Armenian Prime Minister Nikol Pashinyan, Russian and Azerbaijani Presidents Vladimir Putin and Ilham Aliyev on November 9, 2020 signed a statement to end the war in Karabakh after almost 45 days. Under the deal, the Armenian side returned all the seven regions surrounding Nagorno-Karabakh, having lost a part of Karabakh itself in hostilities.