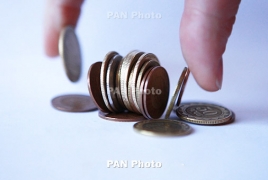 June 17, 2022 - 15:32 AMT
PanARMENIAN.Net - Economic growth in Armenia picked up in April to 8.8% year on year (yoy) from 6.7% yoy in March, the World Bank said in an update on Friday, June 17.
The Bank said the increase came on top of a high base of 23% yoy growth in April 2021 and was broad-based. Growth was particularly strong in non-traded services (up by 27% yoy) and construction (up by 15.6% yoy). Trade also picked up to register 8.6% yoy growth in April, as compared to 6.6% in March.
After contracting by 7% in March, industrial output grew by 1.2% yoy. In the industry sector, manufacturing registered 8% yoy growth, driven by pick up in manufactured food products. On the demand side, growth was driven by consumption, which was supported by a 3% yoy increase in real private sector wages, close to 3.5-fold yoy pick up in money transfers from Russia and increase in government spending.
Cumulatively, the Economic Activity Index (EAI) registered 9.4% yoy growth in the year through April, prompting an upward revision in the growth forecast for 2022.
Inflation continued to accelerate in May, reaching 9% yoy from 8.4% yoy in April. This was driven by increase in food and alcoholic beverage prices, which increased by 14.5%, and explained 60% of the total inflation. Utility and transport prices also increased sharply, by 7% and 8.6% respectively, contributing a further 20% to total inflation.
Both exports and imports of goods grew significantly, by 20% and 24%, respectively, and the goods trade deficit widened by 31% yoy in April.
The dram continued to appreciate significantly against the USD and, by June 6th, was 8% stronger than its pre-war level, while the state budget registered an AMD 27 billion surplus in April.