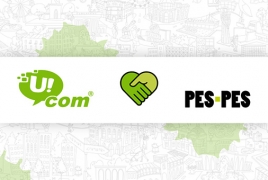 October 7, 2022 - 12:21 AMT
PanARMENIAN.Net - Ucom continues to support the Pes-Pes educational project, which is designed to promote knowledge about the motherland. Within the special project, children will be able to both color the sights of Yerevan and Gyumri on the maps of the two cities, and, by flipping through the coloring books, learn more about the sculptures, architectural monuments, buildings of Yerevan and Armenian paintings, glean a set of interesting facts about the great Armenians.
"Most kids love to color in general. With Pes-Pes, enjoying this process, they not only get to know their place of residence visually, but also gain knowledge about its history. Moreover, children get the opportunity to be creative, depicting their favorite cities in colors and shades that are specific to their imagination. I am glad that Ucom has supported and continues to support our project representing Gyumri," said Yana Babajanyan, founder of the Pes-Pes project.
The coloring map of Gyumri, in particular, is presented in large (140x90cm) and medium (100x70cm) formats. A large amount of information flows has been processed, corrected and filtered for a richer quality joint pastime of parents and their children.
"Ucom has always willingly supported the project of creating educational materials representing the cultural capital of Armenia, the city of Gyumri. I am glad that one of the most picturesque cities of our country is presented to the joint attention of children and their parents," said Ara Khachatryan, Director General at Ucom.
A variety of educational materials can be found and purchased online.