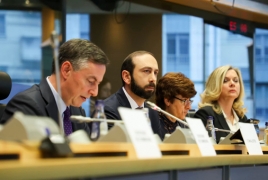 January 25, 2023 - 10:51 AMT
PanARMENIAN.Net - Armenian Foreign Minister Ararat Mirzoyan delivered remarks at a discussion held by Committee on Foreign Affairs of the European Parliament on Tuesday, January 24 and noted that Azerbaijan expects Armenia to only accept all its demands and uses all possible instruments of pressure Yerevan when not getting what it wants.
"We accepted Azerbaijan's suggestion to discuss the normalisation of relations between Armenia and Azerbaijan and the Nagorno-Karabakh issue in parallel, separate tracks. In contrast, Azerbaijan started to claim that Nagorno-Karabakh is their internal issue, opposing Armenia's concrete suggestion to create an international mechanism of talks between Baku and Stepanakert," Mirzoyan said.
"It is also clear that so far Azerbaijan's actions, including the blockade of the Lachin corridor, once again have proven the absolute necessity of international engagement to address the issues of rights and security of the people of Nagorno-Karabakh."
At this very moment, he said, the people of Nagorno-Karabakh remain under inhumane siege because of the blockade of the Lachin corridor - the lifeline, the only road connecting Nagorno-Karabakh with Armenia. According to him, having had the urgent debate and adopted the resolution on the "Humanitarian consequences of the blockade in Nagorno-Karabakh" last week, MEPs are well aware of the situation.
"There is one aspect that I would like to emphasize: it is not an isolated episode but must be seen as part of a widespread and systematic policy of Azerbaijan aimed at the ethnic cleansing of the people of Nagorno-Karabakh. By creating unbearable living conditions, Azerbaijan aims to coerce the people of Nagorno-Karabakh to leave their homes and native land. The recent statement of the President of Azerbaijan suggesting the deportation of those Armenians who do not want to become citizens of Azerbaijan comes to prove once again their intention of ethnic cleansing," the Foreign Minister added.
"As the humanitarian crisis in Nagorno-Karabakh is worsening with each passing day, the immediate intervention of the international community is required. As indicated in the EP urgency resolution last week, it is imperative to send an international fact-finding mission to Nagorno-Karabakh and the Lachin Corridor to assess the humanitarian situation on the ground, as well as to ensure unhindered humanitarian access to Nagorno-Karabakh for relevant UN bodies."
Since December 12, the sole road connecting Nagorno Karabakh to Armenia - the Lachin Corridor - has been blocked by self-described Azerbaijani environmentalists. Karabakh residents have reported food and fuel shortages, while hospital patients don't have access to essential medicines, with only a handful allowed transfer to facilities in Armenia proper.