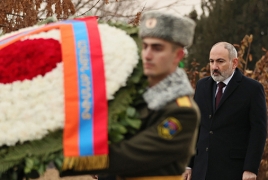 January 28, 2023 - 12:47 AMT
PanARMENIAN.Net - Prime Minister Nikol Pashinyan has apologized to all the parents whose children died in the army.
Pashinyan delivered a speech on Saturday, January 28, as Armenians mark the 31st anniversary of the establishment of the Army, kneeled before the parents of those who fell in action and said: "The sun will come up".
"Today we mark the 31st anniversary of the formation of our army and first of all we commemorate the memory of our martyrs who gave their lives for the Motherland," he said.
"Despite all the difficulties, they are the ones who inspire us and fill us with the awareness that our struggle for statehood, for sovereignty, independence and security cannot fail if there is dedication, if there is faith."
"Today, thousands of people devotedly serving in the Armenian army are serving the Republic of Armenia, independence, sovereignty, and statehood, and we will do everything to change the quality of their service," he added.
"This is why the government has undertaken large-scale reforms in the army, the purpose of which is to make every soldier, every officer more capable and professional, and at the same time, more prosperous."