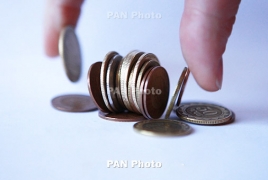 February 17, 2023 - 16:59 AMT
PanARMENIAN.Net - Armenia's economy is expected to grow by 4% in 2023 and 4.8% in 2024, the European Bank for Reconstruction and Development (EBRD) says in an update to its Regional Economic Prospects forecasts.
Exports from the European Union, the United Kingdom and United States to some economies in Central Asia and the Caucasus increased by more than 80 per cent over the same period. These increases were particularly pronounced for the Kyrgyz Republic and Armenia, both members of the Eurasian Economic Union providing for customs-free trade with Russia
While this additional (intermediated) trade represents a small fraction of the reduction in Russia's direct imports from the West, it amounts to 4 to 6 per cent of GDP (annualised) in Armenia and the Kyrgyz Republic. This trade has also boosted the development of associated logistics industry and financial services.
The extraordinary growth factors present in the Caucasus in 2022 are likely to dissipate in 2023, bringing down the growth rates in these countries close to their medium-term potential.
Inflation will continue to decelerate but stay at elevated levels in the whole region. Improved global prospects in 2024 will have a positive impact on the economic recovery in Moldova and should bolster economic activity in the Caucasus. Ukraine's economy, however, will continue to be heavily affected by wartime considerations.
Unless there is a significant strategic change on the ground, growth in Ukraine's GDP in 2024 is likely to be sluggish, but positive at least. Inflation throughout the region may also remain above target rates, especially in Ukraine and Moldova where the normalisation path is likely to be longer.
The whole region remains highly vulnerable not only to prolonged war in Ukraine but also to the tensions between Armenia and Azerbaijan, and risks to growth are therefore skewed to the downside.