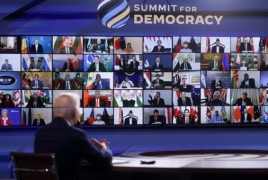 March 30, 2023 - 10:38 AMT
PanARMENIAN.Net - Armenia has issued a statement explaining why the country joined the final declaration of the Summit for Democracy hosted by U.S. President Joe Biden on Wednesday, March 29 but did not support the point regarding Ukraine.
"Since the paragraph does not comprehensively reflect all conflicts and crises, and it does not refer to the fact of Azerbaijan's aggression towards the sovereign territory of Armenia and the occupation of certain parts of it, Armenia refrains from joining this paragraph," the statement from the government reads.
According to said paragraph of the final declaration of the "Summit for Democracy", the participants demand that "the Russian Federation immediately, completely and unconditionally withdraw all its armed forces from the territory of Ukraine and cease hostilities."
The paragraph not endorsed by Armenia underscores the need to reach, as soon as possible, a comprehensive, just and lasting peace in Ukraine in line with the principles of the UN Charter. It also demands that "Russia immediately, completely, and unconditionally withdraw all of its military forces from the territory of Ukraine within its internationally recognized borders and call for a cessation of hostilities."