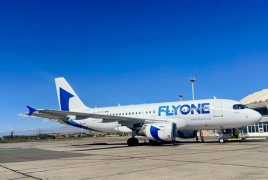 May 3, 2023 - 12:39 AMT
PanARMENIAN.Net - Turkey has closed its airspace to Armenian flights heading to a third destination in response to the unveiling of a monument in Yerevan last week, Turkish Foreign Minister Mevlut Cavusoglu said on Wednesday, May 3, Reuters reports.
The monument commemorates those involved in an assassination plot against Ottoman Turkish officials responsible for masterminding and committing the Armenian Genocide, a charge Ankara denies.
Speaking to broadcaster NTV, Cavusoglu said Turkey would take further steps if the monument is not removed.
On April 24, 1915, a large group of Armenian intellectuals was rounded up and assassinated in Constantinople by the Ottoman government. On April 24, 2023, Armenians worldwide will commemorate the 108th anniversary of the Genocide which continued until 1923. Some three dozen countries, hundreds of local government bodies and international organizations have so far recognized the killings of 1.5 million Armenians as Genocide. Turkey denies to this day.