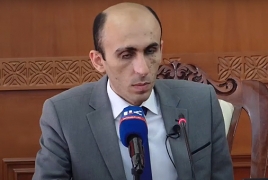 September 19, 2023 - 14:27 AMT
PanARMENIAN.Net - Former State Minister of Nagorno-Karabakh (Artsakh) Artak Beglayan has said that Azerbaijan has launched the bloody phase of the genocide of the Artsakh (Karabakh) people.
Beglaryan's remarks come amid an ongoing assault by Azerbaijan against Nagorno-Karabakh – amid a harrowing humanitarian crisis caused, again, by Azerbaijan.
"The genocidal regime of Aliyev started the bloody phase of the genocide of the Artsakh people after a long phase of starvation. Are these your guarantees of rights and security, Russia, US, EU!!!" Beglaryan wrote in a message on X.
Azerbaijan has launched a massive shelling of Nagorno-Karabakh (Artsakh), another ex-State Minister, Ruven Vardanyan, said earlier.
Stepanakert, the capital of Karabakh, is being targeted too.
The Azerbaijani Foreign Ministry confirmed the attack, claiming that they have started "local anti-terrorism measures". According to a statement, the Russian peacekeeping contingent deployed in Nagorno-Karabakh to help protect the Armenian population there has been notified about the attack in advance.
The Azerbaijani military earlier accused the Karabakh military of staging a provocation and planting a mine in territories controlled by Azerbaijan, which had allegedly caused the death of two civilians.
The Nagorno-Karabakh Defense Army denied the accusations on Tuesday. The Defense Army has been denying various accusations from Azerbaijan from quite some time now.