PanARMENIAN.Net - Erik, aged 13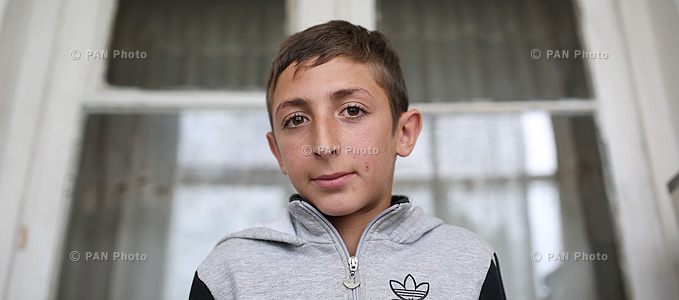 I miss Talish and our house very much. Our friends are here now. I don't think we will return one day, because they will shoot again. I don't like being far from home, but I like when no one shoots at my friends. If everything calms down, I would live in Talish. Maybe, there are places which could become our new home, but only in case my family is together. If we are to live in Karabakh, I will definitely choose Talish. When we lived in tallish, I wanted to go in for karate. There is a group here, so my dream will come true.
Why they shoot? They want to seize our lands, but our soldiers stand firmly.
Alex, aged 9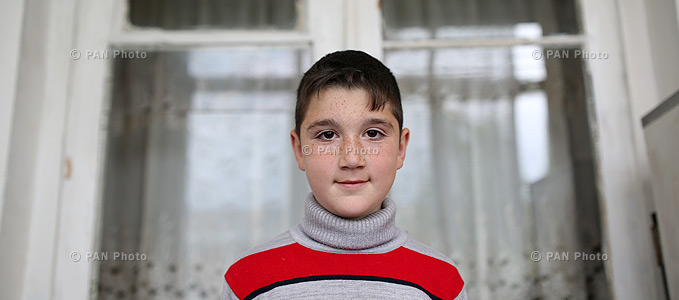 Although feel good and safe here, I miss Talish and wish to return one day. My dad promised to take me there. When we lived in Talish, I dreamt to become a boxer. Here, in Charentsavan, my mom says I will take up painting, music, football and box. Maybe I will manage it all.
Yura, aged 14 (has been living in Charentsavan for 4 years)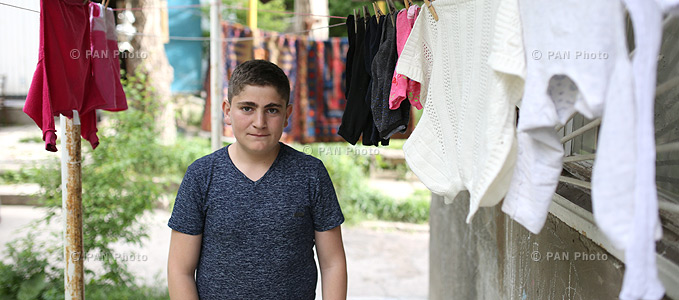 When I learned hat's going in the village I got scared and only calmed down when my relatives arrived. It's hard for them to get accustomed to new conditions and it's a pity we can't go back now. I woud like to go there from time to time but not stay there all the time. Well, don't write about my dreams (laughing).
I am playing football for Adana team. I am forward. I would be great to become a professional football player.
I haven't seen war. There wasn't much shooting when we lived there. They want more territories and maybe want to exterminate Armenians.
I think Azerbaijani children play football as well. I would like to have a match with them, talk and hear about their problems. There will be no peace… I want peace but it can't be reached through persuading. They want our lands and we wouldn't surrender.
Ruzanna, aged 9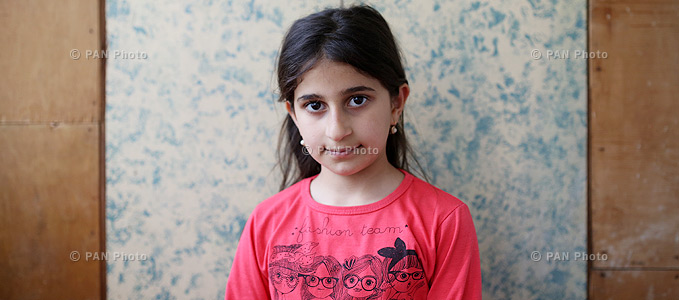 I want to go back to see my village, my house and my friends. I want to see them again. When we lived in Talish, I wanted to study well to become a philanthropist and repair our school. It's all ok here. Now I want to become a doctor and help people. I have already made friends with some girls at school. War is a place where enemies fight. I don't know why they are our enemies… Maybe it's because they envy us. Our villages are beautiful and theirs aren't. Our people are kind, they defend themselves.
Milena, aged 4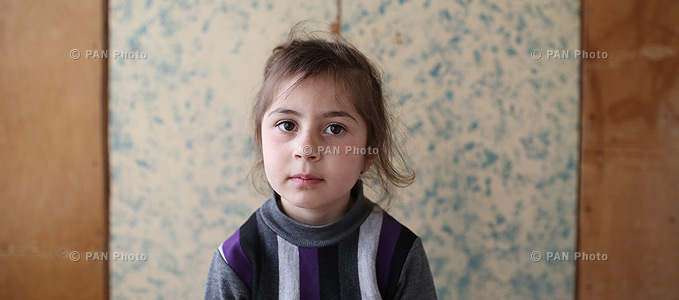 I wish to become a nanny in a kindergarten. I remember our kindergarten and I miss our nanny Gohar. I also miss Vahram, Mane and others. I want to attend a kindergarten here too. I usually play in the yard with my brother.
Marianna, aged 13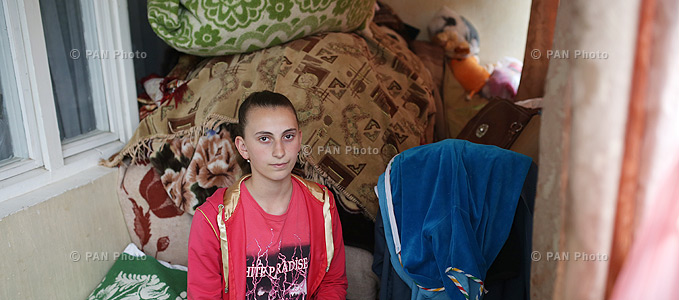 I don't feel people are different here. There two of our classmates here and we communicate. I miss the people in Talish, our home, our nature and school. I miss everything. It's all right here and no one is shooting. I got used to shootings and would like to go back even if it continues there. However, I don't think it's possible.
I would like to become a … (her sister Ruzanna prompts: sniper, or, no, a police officer). Yes, a police officer to arrest criminals. War is senseless.
Diana, Edik, Ruzanna and Syuzanna (twins)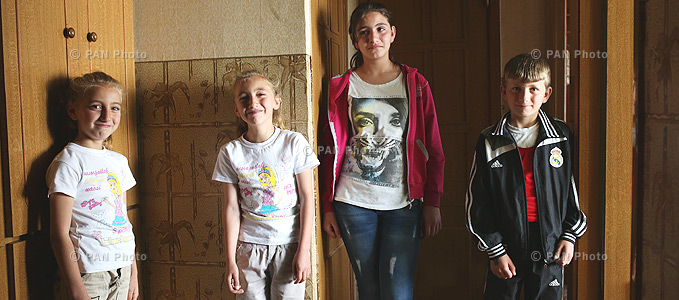 I want to be protected and become a sniper. I like weapons and want to defend our people. I saw a weapon at school but didn't try to shoot, although I would like to learn. I will ask my dad to teach me. He is a volunteer and defends out village.
I miss my friends and don't know where they are now. Maybe we will find each other one day in Talish.
Edik, aged 10
I want to become a wrestler. I have been already training for a month and wish to become a champion one day. My coach says I will succeed. I also like karate.
Ruzanna and Syuzanna, twins aged 8
(Syuzanna) I remember our home and yard every day. We play here too, but it was better in Talish. I want to become a doctor.
(Ruzanna) I wish to become a singer.
People are new here. I like the school and the teachers but there are no friends from my school in Talish. Fruits are tasty here but everything is more delicious is Talish.