PanARMENIAN.Net - The Aviation Training Center under the General Department of Civil Aviation has operated for 43 years at Zvartnots International Airports, instructing future controllers and technicians. PanARMENIAN.Net talked to the Executive Director of the center, Frida Muradyan, who told about the educational process and opportunities of the graduates.
The center that opened in 1973 now operates as a subsidiary of the General Department of Civil Aviation.
Educational process
As an educational institution, the Aviation Training Center offers the basic course for beginners as well as advanced trainings for specialists. The center is licensed to instruct commercial pilots, air traffic control officers, technician operators and aircraft maintenance technicians. Commercial pilots and air traffic control officers study for 3 years, while mastering in the other two professions takes 2,5 years. Upon completion of the course examinations are held. At that, the content of the tests is changed each year.
The students are offered special topics like aviation English, aerodynamics, aircraft structure, air law, as well as human factor in aviation. The graduates of the centers get a national diploma and can be employed as average skilled specialists at any aviation-related organization.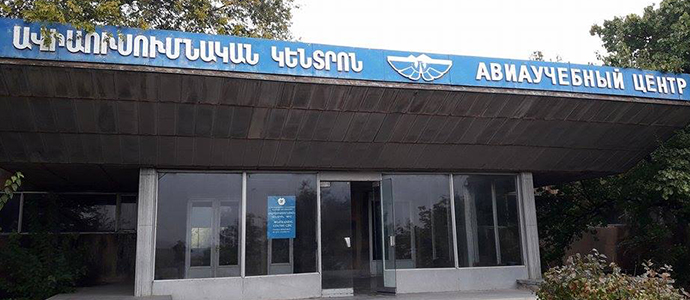 The training of aviation specialists is held in line with international standards. The center is cooperating with Russia's Ulyanovsk Aviation Institute and Kyiv-based regional headquarters of the International Civil Aviation Organization (ICAO). Besides, the center offers courses for flight attendants and organizes English language competency tests for pilots and controllers once in three years.
Admission and students
Today, the center has 67 students, who were admitted on the basis of secondary education certificate. In the past, the students were mostly boys but now there are 15 female students attending. By the way, the center executive says that girls have less difficulty in finding a job in civil aviation institutions. To become an airport employee, the graduates must take an extra examination.
The annual fee is AMD 250,000. The education of 15 students with high abilities is subsidized by the state. A rotation system is also enabled.