PanARMENIAN.Net - Summarizing the year of 2016, PAN will tell about the famous people the world lost during the year.
Legendary singer-songwriter and actor David Bowie died at the age of 69 after a long battle with cancer on January 10. During his lifetime, his record sales, estimated at 140 million worldwide, made him one of the world's best-selling music artists. The song Space Oddity that was first released on July 11, 1969 became one of Bowie's signature songs and one of four of his songs included in The Rock and Roll Hall of Fame's 500 songs that shaped rock and roll.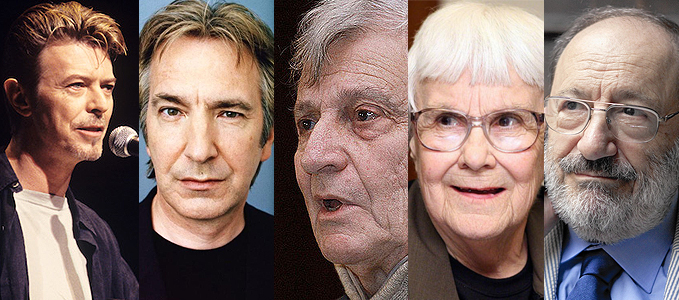 Four days later, on January 14, Alan Rickman, one of the best-loved and most warmly admired British actors died in London aged 69. Rickman gained wide notice for his film performances in Die Hard and the Harry Potter film series. Rickman's other film roles included the Sheriff of Nottingham in Robin Hood: Prince of Thieves, for which he received the BAFTA Award for Best Actor in a Supporting Role and the title character in Rasputin: Dark Servant of Destiny, which won him a Golden Globe, an Emmy and a Screen Actors Guild Award.
One of the most prominent Armenian cultural workers, filmmaker Arman Manaryan died on February 16 at the age of 87. He was famous for directing Tjvjik, A Spring of Heghnar, Karine, Comrade Panjuni and other films.
On February 19, the world lost two outstanding writers: Harper Lee, 89, best known for writing the Pulitzer Prize-winning bestseller To Kill a Mockingbird, and Italian novelist, scientist and philosopher Umberto Eco, 84, who is known internationally for his 1980 novel The Name of the Rose, a historical mystery combining semiotics in fiction with biblical analysis, medieval studies, and literary theory.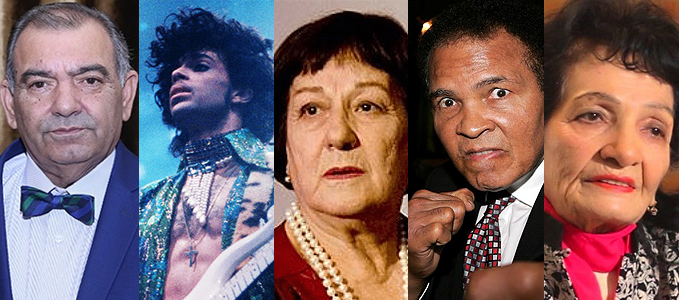 On March 23, acclaimed Armenian tenor, artistic director of the National Academic Theater of Opera and Ballet, people's artist Gegham Grigoryan passed away in Yerevan at the age of 65. He was recognized as one of the best tenors of the 20th century.
Singer-songwriter, multi-instrumentalist, and record producer Prince (Prince Rogers Nelson) died in his residence April 21 from an accidental overdose of the prescribed opioid, fentanyl. He was 57. Prince recorded more than 30 albums. His best known hits include Let's Go Crazy and When Doves Cry. He won seven Grammy Awards, an American Music Award, a Golden Globe Award, and an Academy Award for the film Purple Rain.
Armenian people's artist, prominent actress Margo (Margarita) Muradyan passed away on April 28 at the age of 89. She is famous for her theater and film roles, as well as participation in a number of radio and TV programs.
Boxing legend Muhammad Ali - one of the world's greatest sporting figures died at the age of 74 on June 3. He had been suffering from a respiratory illness, a condition that was complicated by Parkinson's disease. Born Cassius Marcellus Clay, Ali shot to fame by winning light-heavyweight gold at the 1960 Rome Olympics. Nicknamed "The Greatest", the American beat Sonny Liston in 1964 to win his first world title and became the first boxer to capture a world heavyweight title on three separate occasions. He eventually retired in 1981, having won 56 of his 61 fights.
Ofelia Hambardzumyan, one of the most talented and beloved Armenian singers, died on June 13 at the age of 91. Her repertoire included Armenian classical and folk music. She was especially recognized for her interpretations of Sayat Nova's songs, including "Yaren ervac im" (Յարէն Էրուած իմ), "Yis Kanchum em Lalanin" (Յիս Կանչում եմ լալանին) and others.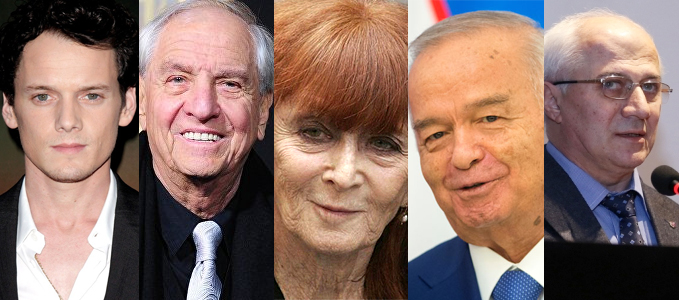 American film and television actor, known for portraying Pavel Chekov in the Star Trek reboot series, Jacob Helm in Like Crazy, Jim Lake Jr. in Trollhunters, and several other prominent roles, Anton Yelchin, was killed in a freak car accident on June 19. The actor died at age 27 when he was fatally pinned by his car after it rolled down the steep driveway of his LA home. He was found pressed in between his brick mailbox and security fence.
Garry Marshall, who created some of the 1970s' most iconic sitcoms including Happy Days, The Odd Couple, Laverne and Shirley and Mork and Mindy, and went on to direct hit movies including Pretty Woman and The Princess Diaries, died on July of complications from pneumonia following a stroke. He was 81.
Sonia Rykiel was a French fashion designer, who created the Poor Boy Sweater. Her knitwear designs and new fashion techniques led her to be dubbed the Queen of Knits. The Sonia Rykiel label was founded in 1968 upon the opening of her first store, making clothing, accessories and fragrances. Rykiel was also a writer and her first book was published in 1979. She died from complications of Parkinson's disease on August 25.
Uzbekistan's President Islam Karimov, who dominated the Central Asian most populous nation for 27 years, died at the age of 78 after suffering a stroke. However, the real date of his death remained a mystery. According to Fergana independent news agency, Karimov died on August 29, but the government declared him dead on September 2.
Hrachya Tamrazyan, Director of the Institute of Ancient Manuscripts, Matenadaran, passed away on September 3 at the age of 63. The author of a range of monographs and scientific articles, Tamrazyan assumed the post of Matenadaran director in 2007. His research focused mainly on the medieval period, particularly the literary heritage of Grigor Narekatsi.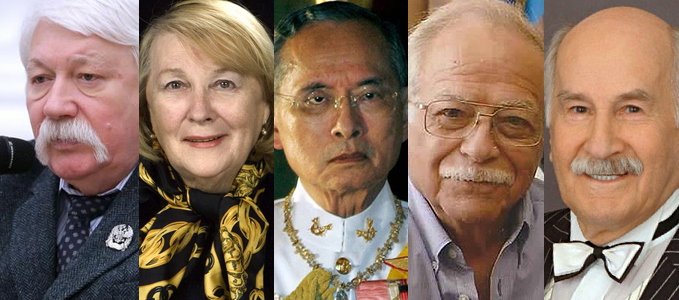 Famed Russian actor and animator, chairman of Krok international animated films festival Eduard Nazarov passed away aged 75 on September 11. Nazarov worked actively till the very end, despite suffering from a vascular disease.
Beloved Russian actress Lyudmila Ivanova died at the age of 83 in a Moscow hospital from natural causes on October 7. Ivanova played over 80 movie roles.
Thailand's King Bhumibol Adulyadej, the world's longest-reigning monarch, died on October 13 after 70 years as head of state. The 88-year-old king was widely revered but had been in poor health in recent years, making few public appearances. He was seen as a stabilizing figure in a country hit by cycles of political turmoil and multiple coups.
Acclaimed Armenian filmmaker Nerses Hovhannisyan, who resided in Moscow for the recent years, died at the age of 78. Hovhannisyan was famous for directing the popular films A bride from the North, The Mechanics of Happiness, Strange Games and Unlucky Panos.
Vladimir Zeldin, believed to have been the world's oldest working actor, died aged 101 in Moscow's Sklifosovsky Institute of Emergency Medicine. The legendary Russian actor passed away on October 31 after appearing at the stage for 71 years more than 1,000 times.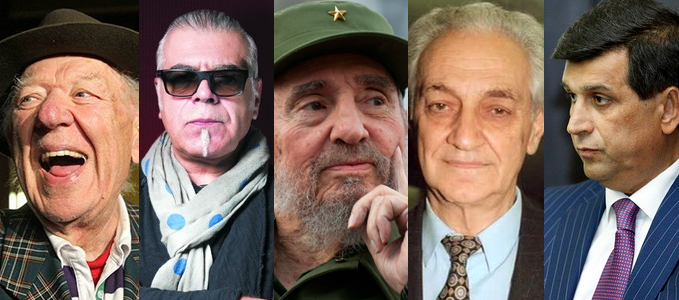 Famous clown Oleg Popov died during a circus tour in the Russian city of Rostov-on-Don at the age of 86 on November 2. Reports said Popov died in a hotel room when watching a TV show.
The star of Russia's The Voice project, musician Andrey Davidyan, 60, died from a heart attack in one of Moscow hospitals on November 13. During his career, he performed in various bands, including Leap Summer, Victoria, Rock-Atelier. In 1993, the singer launched his own project CakeSound, performing funk, jazz-rock and soul.
On November 25, Fidel Castro, a Cuban revolutionary and politician, who governed the country as Prime Minister from 1959 to 1976 and then as President from 1976 to 2008, died at the age of 90. One of the world's longest-serving and most iconic leaders, Castro had been retired from political life for several years. His brother, Raul Castro is the current President of Cuba.
Vano "Ivan" Mikoyan, a Soviet Armenian aircraft designer, died at the age of 90 on November 25. He has served at OKB Mikoyan as assistant chief engineer, chief engineer for flight tests, and as the leading designer for MiG-21 fighter aircraft. In 1965, he was appointed as the lead designer of the MiG-23 fighter jet and the technical director of joint state tests after 1968. Starting in 1973, he was deputy chief designer for the MiG-29 fighter. Later, he served as an adviser for Russian Aircraft Corporation MiG.
Armenian Minister of Emergency Situations Armen Yeritsyan passed away on December 13 at Nairi medical center in Yerevan. He would have turned 56 on December 25. Yeritsyan assumed the ministerial post in 2010 and was re-appointed for the third time in February.
Hollywood actress and socialite Zsa Zsa Gabor passed away on December 18 following a heart attack, aged 99. As well as her movie career, the former Miss Hungary was also known for being married nine times.
On Christmas Day, December 25, singer George Michael passed away peacefully at home. He sold more than 80 million records worldwide in a career spanning four decades. Beginning his career as one half of pop duo Wham! - he became famous in his own right with his debut solo single Careless Whisper. His 1987 debut solo album Faith sold more than 20 million copies worldwide.
Just a day after daughter, Star Wars actress Carrie Fisher passed away, American actress, singer, businesswoman, film historian, and humanitarian Debbie Reynolds suffered a fatal stroke on December 28. Rising to stardom for her musical talents, Reynolds performed on stage and on film with great talents such as Frank Sinatra and Leslie Nielsen.