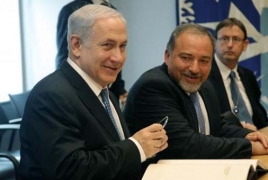 May 7, 2015 - 07:51 AMT
PanARMENIAN.Net - Prime Minister Benjamin Netanyahu clinched a deal to form a new government on Wednesday, May 6 just before a deadline expired, but his coalition will rule by the slimmest of majorities in Israel's turbulent parliament, according to Reuters.
"Israel now has a government," Naftali Bennett, the head of the far-right Jewish Home party announced at parliament after hours of haggling with Netanyahu's Likud deputies over cabinet positions, which were not immediately announced.
Netanyahu had struggled to put together a coalition for nearly two months after winning an easy election victory, after a former ally abandoned him this week.
Barely two hours before a midnight (2100 GMT) deadline mandated by law, Netanyahu's right-wing Likud sealed an agreement with ultranationalist Jewish Home, which advocates annexation of parts of occupied territory Palestinians seek for a state.
Netanyahu dispatched a formal notice to President Reuven Rivlin, telling him "I am honored to notify you I have succeeded in forming a government, which I would like to present to parliament as soon as possible."
With Jewish Home, the ultra-Orthodox United Torah Judaism and Shas parties and Kulanu, a centrist faction, the Likud-led government will control 61 of parliament's 120 seats.