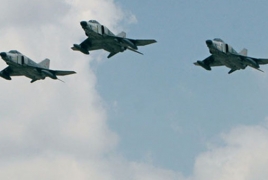 May 7, 2015 - 11:58 AMT
PanARMENIAN.Net - Syrian army bombing in the mountainous area along the border with Lebanon killed dozens of insurgents and helped Hezbollah fighters reclaim territory there known as the Qarna Heights, the Shi'ite Muslim group's Manar television said on Thursday, May 7, according to Reuters.
The al Qaeda-linked rebels, encamped in the Qalamoun mountains, have been attacking the Syrian army and fighters from Hezbollah, a staunch ally of Syrian President Bashar al Assad, which has sent hundreds to fight alongside his forces.
Hezbollah's leader Sayyed Hassan Nasrallah vowed on Tuesday that his forces and Syrian allies would clear the rebels out of the strategic border region north of the capital Damascus that insurgents use as a main supply route for arms and fighters.
Although Nasrallah did not disclose when his fighters would start a major assault in the Qalamoun area, his group announced on Wednesday its fighters had hit a gathering of militants on the Syrian side of the border, inflicting heavy casualties.
Hezbollah also said on Wednesday its fighters had seized part of a strategic hilltop in Lebanon's eastern border area known as Kherbat al Nahla that overlooks Syrian side of the Qalamoun region.