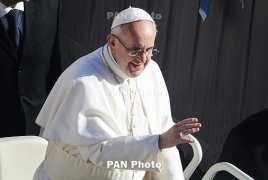 June 22, 2015 - 12:34 AMT
PanARMENIAN.Net - Pope Francis on Sunday, June 21 denounced what he calls the "great powers" of the world for failing to act when there was intelligence indicating Jews, Christians and others were being transported to death camps in Europe during World War II, the Time reports.
"In the last century, so many, millions of Armenians died. But where were the great powers then? They were looking the other way," the pope said.
In April, the pope angered Turkey when he referred to the slaughter of Armenians by Turkish Ottomans as "genocide."
In today's world, he told the young people: "Everything is done for money." He criticized those advocating peace while manufacturing or selling arms.
Francis reiterated his view that conflicts in the world today are tantamount to "a Third World War in segments."