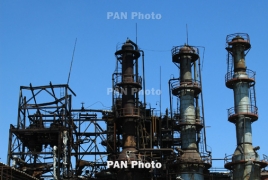 July 2, 2015 - 17:38 AMT
PanARMENIAN.Net - Electric Networks of Armenia (ENA) Company filed a lawsuit against Nairit Plant. The company asked the court to declare Nairit bankrupt over the plant's debt of AMD 1.2 billion. No decision was made so far, even though several court sittings were held. On July 1 the court decided to postpone hearings on the case until September, Panorama.am reports.
"Negotiations are underway with ENA. I think they will yield a positive result, especially as the Armenian government is also interested in the plant's reoperation. I am sure the government will do its best to re-operate it, even in case of a slight chance," Nairit Plant's lawyer Armen Abovyan told Panorama.am.
ENA previously filed a suit against Nairit, but at that time the plant managed to pay its debt. Nairit hopes to repay the current debt as well so as avoid bankruptcy.