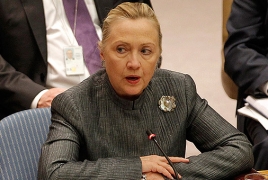 September 1, 2015 - 12:19 AMT
PanARMENIAN.Net - Thousands of Hillary Clinton's emails while U.S. secretary of state have been released, including many that have been censored after being deemed classified, BBC News reports.
Clinton, who is seeking the Democratic nomination for the 2016 presidential election, has been under fire for using a private computer server for work emails while in office. Clinton's opponents have accused her of putting U.S. security at risk by using an unsecured computer system.
The presidential hopeful has admitted that her decision to use a private email server at her New York home was a mistake. The emails - the details of which were found among more than 7,000 pages of her correspondence released by the department late on Monday, August 31 - were partly censored.
The State Department said about 150 of the messages had to be censored because they contained information considered to be classified, BBC reports. However, the vast majority of the correspondence concerned mundane matters of daily life at workplace, including phone messages and relays of daily schedules.
More than a quarter of Clinton's work emails have now been released, after she provided the State Department with 30,000 pages of documents last year.
Polls indicate that the email scandal has affected Clinton's ratings, though she remains the frontrunner for the Democratic nomination.