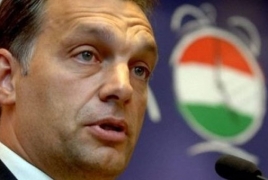 September 12, 2015 - 09:55 AMT
PanARMENIAN.Net - Hungarian Prime Minister Viktor Orban has called on the European Union to give Syria's neighbours €3bn ($3.4bn) in financial aid to help those displaced by the civil war, accoridng to BBC News.
Orban said supporting Turkey, Lebanon and Jordan with such a package would end the mass migration to Europe.
Hungary has struggled to cope with some 150,000 migrants that have crossed its borders so far this year.
From next week, people who enter the country illegally will be arrested. Meanwhile, protests in support of migrants are expected across Europe later on Saturday, September 12.
Ten of thousands of people are expected to participate in a "day of action" with dozens of events taking place in several countries. A handful of rival anti-migrant protests are also due to take place.
Meanwhile, Germany has announced that 4,000 troops have been put on standby to cope with the huge influx of migrants.
Officials say 40,000 people are expected to arrive in southern Germany this weekend alone - twice as many as last weekend.