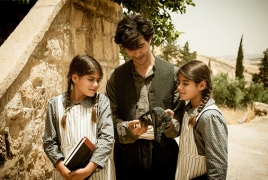 September 12, 2015 - 18:00 AMT
PanARMENIAN.Net - Fatih Akin's "The Cut" was an official selection of the Venice Film Festival, and opens on Friday, September 18 in NY and LA followed by a national release, Asbarez reports.
The movie was co-written by Armenian screenwriter, USC professor and Martin Scorsese collaborator Mardik Martin (Raging Bull, Mean Streets, New York, New York).
"The Cut" is an epic drama about one man's journey through the Ottoman Empire after surviving the 1915 Armenian Genocide. Deported from his home in Mardin, Nazareth (A Prophet's Tahar Rahim) moves onwards as a forced laborer. When he learns that his daughters may still be alive, his hope is revived and he travels to America, via Cuba, to find them.
One night, the Turkish police round up all the Armenian men in the city, including the young blacksmith, Nazaret Manoogian, who gets separated from his family. Years later, after managing to survive the horrors of the genocide, he hears that his twin daughters are still alive. Determined to find them, he sets off to track them down, his search taking him from the Mesopotamian deserts and Havana to the barren and desolate prairies of North Dakota. On this odyssey, he encounters a range of very different people: angelic and kind-hearted characters, but also the devil incarnate.