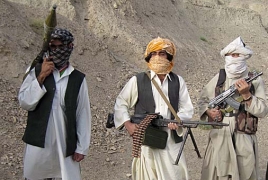 September 18, 2015 - 10:33 AMT
PanARMENIAN.Net - Taliban gunmen stormed a Pakistani Air Force base in the volatile northwestern city of Peshawar early on Friday, September 18 a military spokesman said, the first major attack on a military installation in several weeks, according to Reuters.
A group of militants attacked a guard post and tried to force their way into the Badaber air base, Major General Asim Bajwa said on Twitter. Eight attackers had been killed so far, he said, and 10 soldiers wounded.
A military official at the base, who asked not to be identified, said the gunmen opened fire on security guards as they tried to fight their way into the facility.
Ambulances had taken around 20 wounded military personnel to hospital, said rescue official Bilal Ahmed.
Taliban spokesman Muhammad Khorasani claimed responsibility for the attack on behalf of the militant group.
Television pictures showed helicopters hovering above the base while police and ambulances gathered outside. Nearby residents said explosions and gunfire could still be heard more than three hours after the attack began.
The number of attacks in Pakistan has fallen around 70 percent this year, due to a combination of a military offensive against Taliban bases along the Afghan border and government initiatives to tackle militancy.
That follows a massacre at a military-run school last December that killed around 150 people, almost all of them children.
Militants can still strike high-value targets even though attacks have decreased. The home minister of Punjab province and 15 others were killed in a suicide attack last month.