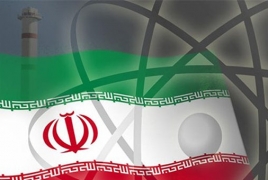 September 18, 2015 - 10:53 AMT
PanARMENIAN.Net - Several nuclear security experts are urging the United Nations nuclear watchdog and world powers to release details of how a sensitive Iranian military site will be inspected as part of a landmark nuclear deal reached in July, Reuters reports.
The experts, with long experience in international weapons inspections, said the failure to disclose the details was damaging the credibility of the International Atomic Energy Agency (IAEA), a view that is rejected by the agency itself, the United States government and another prominent non-proliferation expert.
The confidential plan for the Parchin site has led to differing reports on how it will be carried out, with some critics of the U.S. administration saying Iran had been given too much leeway to conduct its own inspections, including taking samples.
The inspections are needed to resolve questions about whether Iran did research in the past at Parchin related to building a nuclear weapon.
David Albright, head of the Institute for Science and International Security in Washington, expressed unease about the lack of public details on the arrangement.
"(Details) should be released because it's undermining the IAEA's credibility," Albright said. "Whatever the outcome of the sampling, the secrecy makes it harder to determine whether it's a credible sampling approach."
Former IAEA deputy director-general Olli Heinonen, now at Harvard University, said the secrecy could not be justified.
The IAEA has said it has a legal obligation to keep details of the arrangement confidential, but insists it is technically sound and will ensure the samples are not compromised.
IAEA access to Parchin, a facility the agency has not visited in a decade, was one of the most sensitive issues during the negotiations that led to the nuclear deal.
IAEA inspectors usually take samples themselves when searching for trace nuclear particles that could be a sign of undeclared atomic work. But as Parchin is a military site the agency had to negotiate special arrangements to get in, diplomats said.
Iran is unlikely to agree to release the details, diplomats say, because it would show it has opened up Parchin to foreign experts despite public pronouncements to the contrary.