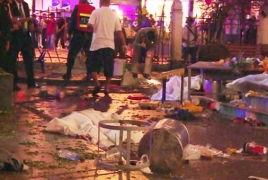 September 26, 2015 - 16:42 AMT
PanARMENIAN.Net - Thai police said Saturday, September 26 that two men who were arrested in connection with August's deadly Bangkok bombing were the ones who carried out the attack and that authorities have gathered enough evidence to prosecute them, the Associated Press reports.
Authorities are confident that the two men in custody, identified as Adem Karadag and Mieraili Yusufu, are the culprits responsible for the bombing at the Erawan Shrine on Aug. 17 that killed 20 people and injured more than 120, said National Police Chief Somyot Poomphanmuang. Police are seeking at least 15 other people they believe are tied to the case.
Police have said the motive for the attack was revenge by a people smuggling network against Thai authorities for breaking up their operation.
"Today, police are confident Adem and Yusufu are the real attackers," Somyot told reporters. "Adem is the yellow-shirted man who planted the bomb. Yusufu is the one who exploded the bomb."
Somyot said the case against them was supported by closed-circuit television footage, witnesses, DNA matching and physical evidence. He said the two men also had offered confessions.
Police on Saturday had the two carry out a reenactment of the bombing at the crime scene, as well as their getaway. Such reenactments are a routine police procedure in Thailand.