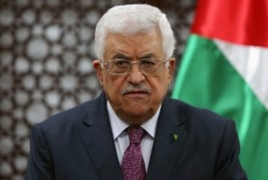 October 1, 2015 - 11:02 AMT
PanARMENIAN.Net - Palestinian President Mahmoud Abbas on Wednesday, September 30 accused Israel of sabotaging U.S. efforts to broker peace and said Israeli security operations at the Al-Aqsa mosque in Jerusalem could lead to a religious war, according to Rfeuters.
In an address to the United Nations General Assembly before a ceremony for the raising of the Palestinian flag at UN headquarters in New York, Abbas said the Palestinian Authority no longer considered itself bound by the accords signed with Israel in the mid-1990s.
Reiterating what the Palestinian Authority has been saying for at least half a decade, Abbas said the agreements would not apply as long as Israel supports settlements of Israelis in the West Bank and refuses to release Palestinian prisoners.
"You are all aware that Israel undermined the efforts made by the administration of President Barack Obama in past years, most recently the efforts of Secretary of State John Kerry aimed at reaching a peace agreement through negotiations," Abbas told the 193-nation General Assembly.
A senior U.S. administration official noted that Abbas reaffirmed his commitment to a two-state solution, a goal shared by the United States.
"We will continue to look to the Israeli and Palestinian governments to demonstrate, through policies and actions, a genuine commitment to a two-state solution," the official said.
Israeli Prime Minister Benjamin Netanyahu's office said in response that Abbas' speech was "deceitful and encourages incitement and lawlessness in the Middle East."