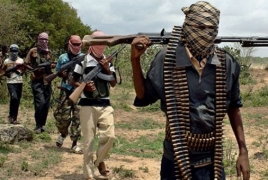 October 12, 2015 - 11:13 AMT
PanARMENIAN.Net - Nigeria's Islamic extremist insurgents Boko Haram are blamed for using teens and women to carry out suicide bombings in neighboring Chad and Cameroon this weekend, killing more than 45 people in what Cameroon's government spokesman said is a move to spread terror as a multinational force prepares to deploy against them, the Associated Press reports.
Two girls between the ages of 13 and 17 carried out suicide bombings in the northern Cameroon village of Kangeleri near Mora town on Sunday, killing at least 9 and wounding 29 others, said Cameroon's Minister of Communications Issa Tchiroma Bakary.
The Cameroon explosions come after five coordinated suicide bombings in neighboring Chad on Saturday killed at least 36 people and wounded some 50 others in a village near Lake Chad that is home to thousands of Nigerians who have fled the extremists' violence. The government said a man, two women and two children carried out the attacks.
The use of girls and women in recent suicide bombings in Nigeria, Chad, Cameroon and Niger raises fears that Boko Haram is using kidnap victims to target countries that are helping combat the rebels.
"They have shifted their tactics. They have noticed it is impossible to face our forces, so they are now using young girls or young boys with explosives, who go more undetected, in areas they are told to go," said Bakary. He added it is difficult to know if the young girls know that they will die. "We guess that they use the girls who were kidnapped here and there, they brainwash them and use them."
A Nigerian military explosives expert has told The Associated Press that many of the bombs are remotely controlled, meaning the bomber may not know when the explosives will be detonated.