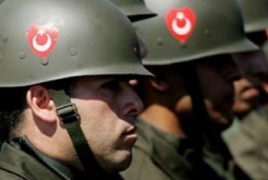 December 9, 2015 - 11:15 AMT
PanARMENIAN.Net - Iraq's ambassador to the United Nations on Tuesday, December 8 appeared to play down a dispute between Baghdad and Ankara over the deployment of Turkish troops in northern Iraq, saying bilateral talks between the neighboring states to end the row were proceeding favorably, Reuters reports.
"We are solving it between Baghdad and Ankara bilaterally," Iraqi Ambassador Mohamed Ali Alhakim told reporters after Russia raised the issue of Turkey's deployment during a closed-door meeting of the United Nations Security Council. "We have not yet escalated it to the Security Council or to the United Nations."
"For us, what is helpful is the bilateral discussion going on right now between Baghdad and Ankara, and it's going extremely well," he said, adding that Moscow had not consulted with Baghdad before raising the issue in the council.
But Alhakim reiterated that Iraq wanted the Turkish troops withdrawn from its territory immediately, saying the deployment was "illegal," and a violation of the United Nations charter.
Turkey has said the deployment was previously agreed with Iraq, a position U.S. Ambassador Samantha Power told reporters was also her understanding. Ankara says its troops are training Iraqi soldiers to fight Islamic State militants, who have seized territory in Iraq and Syria.