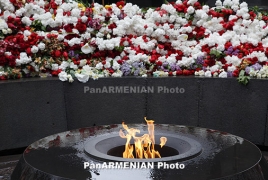 December 9, 2015 - 14:20 AMT
PanARMENIAN.Net - The United Nations Secretary-General Ban Ki-moon issued a statement on the first-ever International Day of Commemoration and Dignity of the Victims of the Crime of Genocide and of the Prevention of this Crime on Wednesday, December 9.
The occasion also coincides with the anniversary of the adoption of the Convention on the Prevention and Punishment of the Crime of Genocide in 1948.
"This is an ideal time to reaffirm our commitment to prevent this serious international crime, honor the memory of the victims, and reaffirm the right to remedies and reparation, as recognized in international law," Ban said in his speech.
Preventing genocide, according to him, means paying more attention to the warning signs, and being prepared to take immediate action to address them.
"After all, genocide does not just happen; it unfolds over time. It is not part of the accidental "fallout" of conflict; most often, it is systematic, planned, with precise targets," he noted.
The Secretary General is confident that prevention of genocide is a specific obligation under international law. "On this new international observance, let us recognize the need to work together more concertedly to protect individuals from gross human rights violations and uphold our common humanity," Ban concluded his message.