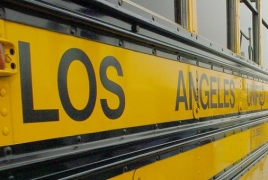 December 16, 2015 - 10:15 AMT
PanARMENIAN.Net - Los Angeles schools have been closed as an unspecified threat emailed to the school district is being investigated, BBC News reports.
The threat against the second largest school system in the U.S. led to 640,000 pupils being told to stay away, while school buses were returned to depots.
A school district spokesman said it involved rucksacks, and they were exercising "an abundance of caution."
The Los Angeles Unified School District has more than 1,000 schools, which all still being searched.
"Earlier this morning [December 15] we did receive an electronic threat that mentions the safety of our schools," said Steven Zipperman, chief of the Los Angeles school police department.
"We have chosen to close our schools today until we can be absolutely sure that our campuses are safe."
The email, which was sent to several school districts across the U.S. late on Monday, December 15, is believed to have come from an IP address in Frankfurt, Germany.
"I think it's important to take this precaution based on what has happened recently and what has happened in the past," said district superintendent Ramon Cortines, who learned of the threat early on Tuesday.
"It was not to one school, two schools or three schools. It was to many schools, not specifically identified... it was to students at schools."