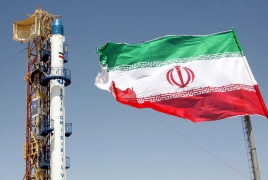 December 16, 2015 - 10:27 AMT
PanARMENIAN.Net - Iran's firing of a medium-range ballistic missile in October violated UN sanctions banning the Islamic Republic from launches capable of delivering nuclear weapons, UN experts said in a new report, according to the Associated Press.
The report submitted to the UN Security Council and seen by The Associated Press on Tuesday, December 15 said the launch used ballistic missile technology banned under a June 2010 resolution.
The October 10 launch was the first test of a ballistic surface-to-surface missile after Iran and six world powers reached a landmark nuclear deal on July 14. The Security Council endorsed the deal in a resolution on July 20 that also called on Iran not to undertake any activity related to ballistic missiles capable of delivering nuclear weapons.
Iran says none of its missiles are designed to carry nuclear weapons.
The report said the missile had a range of at least 1,000 kilometers (620 miles) and up to 1,300 kilometers, and a payload of at least 1,000 kilograms (2,200 pounds) and up to 1,400 kilograms.
But the panel said a missile with a range of at least 300 kilometers and a payload of at least 500 kilograms — far smaller than the one launched on October 10 — is considered by expert guidelines to be capable of delivering weapons of mass destruction.
Whether the Security Council takes any action remains to be seen. It was expected to receive a briefing from the Iran sanctions committee later Tuesday.