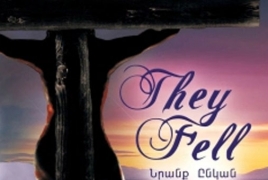 January 16, 2016 - 11:08 AMT
PanARMENIAN.Net - Mike Jeknavorian, a FLArmenians Lifestyle Contributor presents a feature on author Stephen Stapanian's novel "They Fell" which focuses on the dying days of the Ottoman Empire during World War I.
The article reads:
Drawing on Charles Aznavour's "Ils Sont Tombes," the author uses graphic imagery to convey the historically based horrors and is stretched over 35 character-experiences in the midst of the Armenian Genocide.
In a response to questions submitted via email from FLArmenians.com, Stapanian says that the novel "represents a gift to the Armenian people globally, and to send a message to all of those who suffered . . . that they were not alone as victims of genocide."
Stapanian says that he was originally inspired to write the novel after watching genocide-themed TV miniseries' in the 1980s, such as Roots, Holocaust, and Shogun. Over time Stapanian worked on his approach and finally published "They Fell."
The novel uses a love-story conceit, along with excerpts of song lyrics and poems, to draw the reading into the larger context of Ottoman Armenian life in 1915. It was written to evoke a strong emotional response about the genocide, and, fundamentally, to elicit change, he says.
But what change could he bring? The Armenian Genocide is officially recognized by over 25 nations, such as Canada, France, Russia, Germany, Austria, Argentina, the Vatican, and others. At the same time, the Ottoman Empire's successor, Turkey, refuses to accept its own history and continues a decades-long campaign of genocide denial.
The lack of accountability or prosecution of the perpetrators makes recollection of the genocide sting that much more, for many, as it does Stapanian.
Hopefully, readers will truly connect with the characters, and in so doing learn something from those who fell and perished in one of man's darkest chapters.