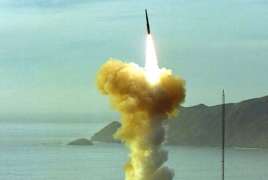 January 23, 2016 - 09:40 AMT
PanARMENIAN.Net - Maintenance errors by three airmen damaged a nuclear-armed missile in its silo in 2014, the U.S. Air Force said, according to BBC News.
It said the incident happened on May 17 that year, but caused no injuries and did not pose any risk to public safety.
The Minuteman III intercontinental ballistic missile was removed from the silo which was operated by the 90th Missile Wing in remote area of north-eastern Colorado.
The air force gave no further details, saying the report was classified. In a brief summary, it said the missile "became non-operational" during a diagnostic test.
The next morning a "mishap crew" chief "did not correctly adhere to technical guidance'' during troubleshooting efforts, "subsequently damaging the missile".
The team chief and two of his airmen - who were not named - were removed from duty after the incident, the summary said. All three later returned to work after being retrained.