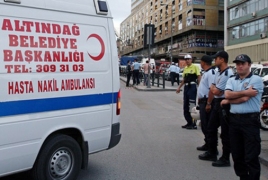 February 12, 2016 - 13:54 AMT
PanARMENIAN.Net - Pakistan has arrested 97 al-Qaeda and Lashkar-e-Jhangvi militants, including three commanders, in the southern city of Karachi and foiled a planned attack to break U.S. journalist Daniel Pearl's killer out of jail, the army said on Friday, February 12, according to Reuters.
The men are accused of involvement in major attacks on two Pakistani air bases, the Karachi airport, several regional intelligence headquarters and on police installations between 2009 and 2015, the military said.
The LeJ's Naeem Bokhari and Sabir Khan, as well as Farooq Bhatti, deputy chief of al-Qaeda in the Indian Subcontinent (AQIS), were captured by Pakistani forces in recent raids, military spokesman Lieutenant General Asim Bajwa said.
"Our conclusion is that all of the terrorist groups are trying to cooperate with each other in order to carry out terrorist attacks," he told a news conference.
The LeJ and AQIS had been working "in collusion" with the Tehreek-e-Taliban Pakistan, also known as the Pakistani Taliban, Bajwa added.
Lashkar-e-Jhangvi, an Islamist group whose sectarian ideology is closely aligned with Islamic State, once enjoyed the backing of Pakistan's powerful spy agency, the Directorate for Inter-Services Intelligence.
Bajwa declined to give details of the raids, including their timing.