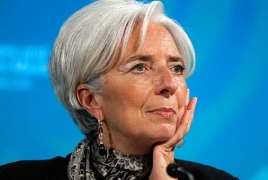 February 26, 2016 - 12:30 AMT
PanARMENIAN.Net - Officials at a global finance meeting Friday, Feb 26, in Shanghai urged governments to speed up promised job-creating reforms instead of relying on stimulus to perk up slackening growth, the Associated Press reports.
Governments have tried to squelch expectations the Group of 20 gathering of finance ministers and central bankers from the United States, China, Japan, Germany and other major rich and emerging economies will produce specific growth plans. But they face pressure to reassure nervous financial markets.
Christine Lagarde, the managing director of the International Monetary Fund, said governments should act faster on reforms promised at a G-20 meeting in 2014. That list included some 800 commitments meant to simplify regulations and boost trade, investment and technology development, but many have yet to be carried out.
"Policymakers do not need to invent yet another trick, but they need to deliver steadily on the commitments they have made," Lagarde said at an event organized by the Washington-based Institute of International Finance alongside the Shanghai meeting.
Referring to monetary and fiscal policy and structural reforms, Lagarde said, "There has to be action on all fronts."
Others at the meeting include U.S. Treasury Secretary Jacob Lew and Federal Reserve Chairwoman Janet Yellen; China's finance minister, Lou Jiwei, and central bank governor, Zhou Xiaochuan; Mario Draghi of the European Central Bank and their counterparts from Europe, South Korea, India and South Africa.