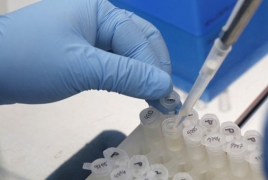 February 27, 2016 - 13:42 AMT
PanARMENIAN.Net - Zika infections have been confirmed in nine pregnant women in the United States, including one who gave birth to a baby with a rare birth defect, health officials said Friday, February 27, according to the Associated Press.
The Centers for Disease Control and Prevention said it's investigating 10 more reports of pregnant travelers with Zika. All got the virus while visiting or living in places with Zika outbreaks.
Also on Friday, the CDC issued a caution to people planning to attend the Olympics this summer in Rio de Janeiro.
The U.S. cases add to reports out of Brazil. Officials there are exploring a possible link to babies born with unusually small heads, a rare birth defect called microcephaly, which can signal underlying brain damage.
Zika has become epidemic in Latin America and the Caribbean since last fall. The virus, mainly spread through mosquito bites, causes mild illness or no symptoms in most people.
So far, 107 travel-related Zika infections have been diagnosed in 24 states and the District of Columbia, including the pregnant woman, AP says.