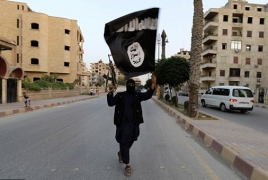 March 12, 2016 - 15:28 AMT
PanARMENIAN.Net - The Obama administration is nearing a decision on whether to formally declare that Islamic State group atrocities against religious minorities, including Christians, constitute "genocide," the Associated Press reports.
As impatient lawmakers and religious groups step up calls for action, Secretary of State John Kerry is leaning toward making the determination and could do so as early as next week, when a congressional deadline for action has been set, according to several administration officials.
However, the officials cautioned that a legal review is still under way and said it is likely Kerry will not meet the March 17 deadline. The House will vote on Monday, March 14 on a bill that would identify the Islamic State's actions against Christians, Yezidis and other groups, including the Kurds, as "genocide, war crimes and crimes against humanity."
An executive branch determination of genocide, however, would be different and be fraught with moral and potential legal consequences. It would also mark only the second time a U.S. administration has reached that conclusion while a conflict is ongoing. The first was in 2004 when Secretary of State Colin Powell determined that atrocities being committed in Sudan's Darfur region constituted genocide.