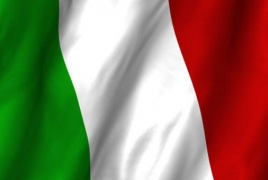 March 22, 2016 - 13:04 AMT
PanARMENIAN.Net - The Italian government on Monday, March 21, named Gen. Enzo Vecciarelli, the current deputy chief of the Italian general staff, as the next chief of the Italian Air Force, replacing Gen. Pasquale Preziosa, who has reached the end of his mandate, Defense News reports.
Vecciarelli, 59, is expected to take over the role at the end of March. He has served as the No. 2 at the general staff since February 2015.
He first earned his pilot qualification in Laughlin Air Force Base in Texas and qualified as a fighter pilot at Holloman Air Force Base in New Mexico.
He commanded the 4th Wing at Grosetto, Italy, between 1999 and 2002 before running the Air Force's contingent at Tallil Air Base in Iraq in 2003.
Back in Italy, he worked at Italy's defense procurement office and served as Italian representative to the European Defense Agency, procurement office OCCAR and the Letter of Intent group.
He served as defense and Air Force attache to Germany between 2007 to 2010, with responsibility for Holland and Denmark, before returning to Italy to take senior Air Force roles between 2012 and 2015, running the 4th section of the Italian procurement office.